Subnet Services Career Path for a ROV Pilot Technician

Planning your career path in the remotely operated vehicle (ROV) industry? SubNet Services has created a career path document to help you understand the pre-qualification needed in entering the industry and to help you choose the best ROV training courses you should take.
But first, here's a list of the minimum requirements for ROV personnel qualification provided by the International Marine Contractors Association (IMCA).
The Requirements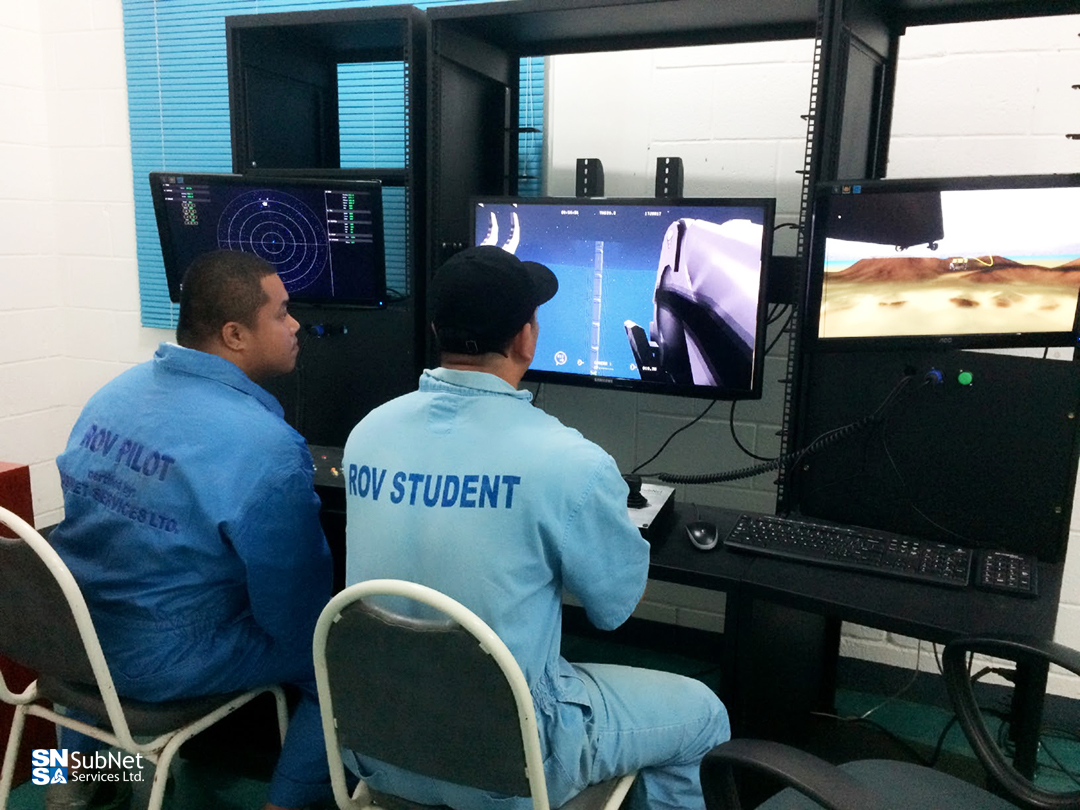 A nationally-recognised technical or trade qualification;
A nationally-recognised, higher (tertiary) academic qualification (not otherwise covered above) in a relevant technical subject;
In certain circumstances, candidates who do not meet the above requirements but have extensive industrial experience, supported by evidence and references, may be acceptable.
While IMCA has not indicated the type of extensive experience or the specific industry, SubNet thinks that the following would be acceptable: commercial diving, ROV, offshore oilfield, subsea, and other types of industries involving hands-on technical, fault finding, and maintenance ability.
And as the first company to provide the ROV Pilot Technician Course in the Philippines, SubNet can also provide you these important personal requirements while you're doing your ROV training course with us.
UKOOA Offshore Medical
BOSIET Offshore Survival
Seaman's Book (for some companies)
ROV Log Book (for ROV positions)
Proof of Training
The Training Courses
In case you are a new personnel to the ROV industry, you are recommended to attend an introductory module provided by a recognised training establishment. In fact, SubNet has included the recommended R002 ROV Basic Introductory Module E-Learning Course in all our entry level courses such as (1) R010 ROV Pilot Technician, (2) R04 Commercial ROV Pilot Technician Grade 2, and (3) R14 ROV Tooling Technician Grade 2.
R002 can be taken online from your home location before arriving at the training venue to save time and money, OR we can deliver it to you on site. You will be tested online and will then be assessed again under supervision at our training centre for the full ROV course.
Additionally, IMCA has issued a guidance on ROV training by providing an Outline Course Syllabi in the IMCA R010 doc a Guidance on Outline Syllabi for Basic ROV-Related Training Courses. SubNet covers this and much more.
Moreover, IMCA has laid down competences for ROV Pilot Technician Grade 2 IMCA C 005 Rev. 2 doc, which are covered by SubNet's ROV04 and ROV05 courses. You do not need to do separate courses if you're doing this one. This course fully includes R002, R010, R04 and SNR04 modules. It will train you on all the IMCA R04 ROV Pilot Technician Grade 2 competences and even more.
Likewise, IMCA has laid down competences for ROV Tooling Technician Grade 2 IMCA C 005 Rev. 2 doc, which the SubNet Course ROV14 ROV Tooling Technician Grade 2 covers. This course fully includes both R002 and R010.
To understand more about these courses, take a closer look at this diagram.
The Job Titles
Now that you have familiarised yourself with the training courses that an ROV career path entails, you might want to know the different job titles that await you after your ROV training. You may click on the following links to see the competences, knowledge, and abilities required for each job title.
Interested to be part of the exciting industry of ROV? Contact or Email us for any inquiries or assistance.
Be trained and internationally certified!
Only here at SubNet Services.