Enroll Now in Subnet Services' Combined Basic CFOT and CFOSH Course!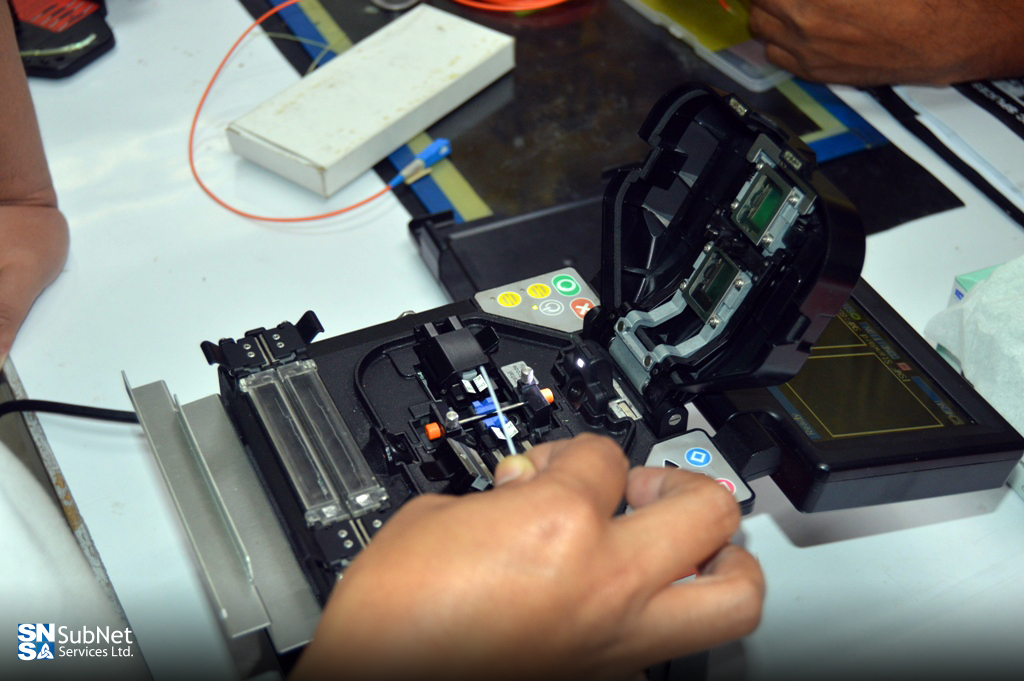 Interested to enter the fiber optics industry and get trained in two courses at the same time?
Subnet Services offers the Combined Basic CFOT and CFOSH FTTx FTTH Technician (TEL2005) training course, a combination of Certified Fiber Optic Technician (CFOT) and CFOSH Fiber to the Home Premises FTTx FTTH (TEL2004) that will run for five (5) days. It is designed to take a fiber optics beginner to advanced stage in a short time.
Combined Basic CFOT and CFOSH Course Overview
Since this is a combination of CFOT and CFOSH, let us do a run-through of the two fiber optics courses.
The CFOT program combines both theory and practical exercises with at least 75% hands-on activities and introduces you to industry standards governing fiber to the desk (FTTD), fiber to the home (FTTH), local area network/wide area network (LAN/WAN), as well as practical fusion and mechanical splicing.
The CFOSH course covers fiber to the home, fiber to the premises, fiber to the curb, and fiber to the business. It can be used to either train installation technicians who are already familiar with fiber optic installation (in other words, those who are already Certified Fiber Optic Technicians) or those who can be structured to train other personnel in support roles including customer service.
Prerequisite
Location
The Combined Basic CFOT and CFOSH course is conducted at Subnet Services' technical training center in Manila, Philippines OR our team of technical training instructors will come to you and deliver the training at your preferred location. The latter is for interested companies only with required number of students.
Duration
Five (5) days including Fiber Optic Association (FOA) certification examination
Combined Basic CFOT and CFOSH Course Competencies
As a CFOT student, you will prove your competence in the following:
Understanding the history and operation of fiber optics
Terminating a variety of connectors
Performing fusion splicing and mechanical splicing
Performing cable preparation for fusion and mechanical splicing
Assembling a splice enclosure
Fully testing and troubleshooting fiber optic cables and fiber optic systems using an OTDR
As a CFOSH student, on the other hand, you will learn about the following:
Why FTTx is being implemented today, including technical, marketing, and financial justifications
The types of FTTx architectures being used, as well as the advantages and disadvantages of each component required
Technical details of specialized FTTx components like splitters and wavelength-division multiplexers and requirements for cables, connectors, splices, and hardware
Design and installation requirements particular to FTTx
Testing and troubleshooting FTTx links
Specialized safety requirements of FTTx
All these are just some of the competencies that you will gain upon completing the Combined Basic CFOT and CFOSH course. To view the complete course competencies, you may download our course brochure for your reference.
CFOSH Course Certification
Subnet certification will be released after completion of the course. A FOA certification is immediately given once exam is passed. (Note: Starting January 1, 2019, all FOA certifications issued or renewed will be for a period of three years)
CFOSH Course 2019 Schedule
In case you are interested to train in Combined Basic CFOT and CFOSH soon, you can refer to our first half schedule below:
February 11 to 15, 2019 (Monday to Friday)
March 11 to 15, 2019 (Monday to Friday)
April 1 to 5, 2019 (Monday to Friday)
April 29 to May 3, 2019 (Monday to Friday)
June 10 to 14, 2019 (Monday to Friday)
As the only FOA-approved school in Metro Manila, Subnet Services is delighted to have you as our next fiber optics trainee. For more enquiries about our Combined Basic CFOT and CFOSH course, you may reach out to our Customer Sales Team.
Be trained and internationally certified!
Only here at Subnet Services.