Subnet Services Looks to Hire Welding Instructors and Fabricators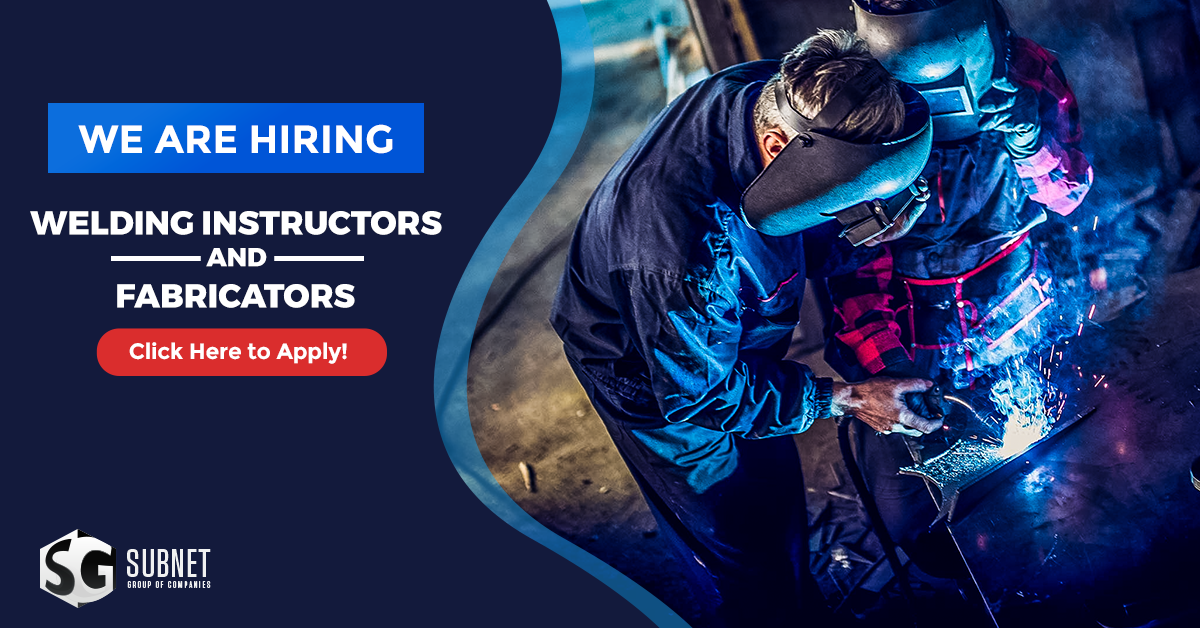 Calling all skilled Filipino welders! We are looking for welding instructors and fabricators who are willing to work in Pasig City, Philippines.
Subnet Welding Instructor and Fabricator Qualifications
Filipino nationals only
Male and female applicants
25 years old and above
With at least 3 years of experience in the related field
Welder (SMAW/MMAW, GTAW/TIG, FCAW, GMAW/MIG/MAG, silver brazing/gas welding) for carbon steel, aluminum, and stainless steel materials
Dissimilar metal welder using gas welding processes
Pipe fitter and structural fitter
Plasma cutting, oxygen acetylene cutting, air gouging operator
National certificate holder (SMAW NCII, GMAW NCII, FCAW NCII, GTAW NCII and Pipefitting NCII), issued by TESDA is a plus
Willing to work in Pasig City
Subnet Welding Instructor Duties and Responsibilities
Responsible for training trainees in the industrial field
Has established technical skills in welding, grinding, and cutting
Has attained assessors' methodology and training methodology
Has the ability to read blueprints and recognize welding symbols and specifications
Has the ability to use a variety of tools and equipment
Has the ability to identify weld defects
Has the ability to deliver competency-based training
Has the ability to conduct competency-based assessment
Can work with minimal supervision
Has basic Math skills and mechanical aptitude
Plans training session
Maintains training facilities
Implements safety rules and regulation
Salary Offer: Negotiable upon interview
For interested applicants, you may send your resume to haronb@subnetservices.com with email subject: WELDING INSTRUCTORS & FABRICATORS FOR PASIG, PHILIPPINES
As an internationally recognised training company, Subnet Services is accredited by the American Welding Society (AWS) and known as the only AWS Accredited Test Facility (ATF) present in the Philippines. We are also a member of the American Society for Nondestructive Testing (ASNT).
Likewise, Subnet is a proud member of the International Marine Contractors Association (IMCA). We are also the first to offer the offshore ROV Pilot Technician selection of courses in the country. We even hold the title of being the only Fiber Optic Association (FOA) approved school not just in Metro Manila, but in the island group of Luzon in the Philippines.
Above all, Subnet trains many of the large national and international companies in the fields of marine, technical, and welding.
What are you waiting for?
Become Subnet's welding instructor!