Team Based ROV Simulator
Subnet have recently built their Purpose Built IMCA Class A – FULL ROV Team Simulator.
The Latest Subnet Services Ltd ROV Simulator is a 4 Man – Team ROV Simulator. Built to train and/or assess competency of 1 or ALL ROV Team Members simultaneously.
ROV Supervisor, ROV Pilot, ROV Co Pilot, Rov Data Recorder, 4 x chair desk stations together with Instructor station.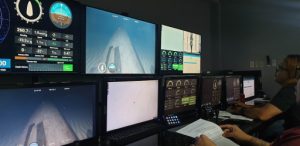 Remote access by client ROV companies any world location allows monitoring of their ROV Teams flying various dive plans.
Team communication, Bridge, Client etc recorded. Scada based data recording with full history of all sensors vehicle telemetry. Video stored for all dives as expected offshore.
A comprehensive list of features and uses as listed below. A perfect competency training and or competency assessment tool for all and any ROV Team Members Perfect for refreshing Flying Hours needs etc.
Full Spec and information can be viewed here